We made a video on testing your charging system on your Go Kart 150. The video include: - The parts include in the charging system. - A test on a functioning machine. - Testing the stator and the...
We made a video to explain how you can redo a full wiring harness for a 150 cc Go Kart. We explained every step, including the testing with a multimeter and the electric plan. The...
We converted a TrailMaster 150 XRX with a snow blade. The snow blade is made of aluminum hooked up under the machine with hinges. The blade goes up and down with an ATV winch....
Winter driving with a 150cc go kart is not easy, we adapted a TrailMaster 150 XRX with skis and tracks. The tracks are from the TrailMaster Super Traxx 200. The axle needs to be turned...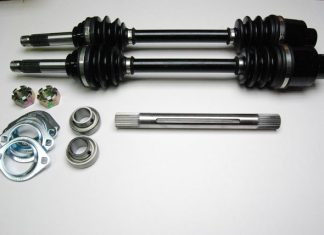 The live axle kit is the first project we did back in November 2013. The original live axle was 18 splines, and 3/4″ compare to the new one with 24 splines and 1″ shaft....